Would you like to get married in Italy?
Destination wedding Sicily
Destination wedding Sicily takes care of foreign couples. We can celebrate civil and/or symbolic rites for all those couples that wish to live a romantic ceremony, made precious by original and personalized readings and music. Moreover, their ceremony can be translated in English, French, Spanish, German, Arabic and Russian too.
Wedding is an important event in life, it's my care to make it a dream, a special day! I've been busy in weddings for over 13 years, planning meticulously every single aspect and detail.
Contact us now for further information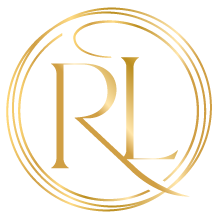 Rossella Lanzafame
Wedding Planner Sicily
Certified in Sicily according to UNI/PdR 61:2019 legislation UNI,CEI EN ISO/IEC at national, European and international level
If you want to live an unforgettable day, full of care and unique details, Wedding planner Sicily; fulfills your dream! I can make your wedding special, perfect in every aspect. I'll organize you a forever unforgettable day! I'll work to make your wedding really special, taking care of details and fulfilling your desires and fancies.
---
Selected by Sky as the best wedding planner in Sicily, for the programme SOS WEDDING, broadcast on channel 62 Donna TV 2019.
2016 DONNA SICILIANA AWARD for her creativity and her professional commitment as a wedding planner.
Special item "Dossier Sicilia" in "Il Giornale" as a pioneer in this profession in Sicily.
Founding partner of SiWePA Sicilian Wedding Planner Association, association that applies the professional code of ethics.
Founding partner WE Pla association in Confcommercio.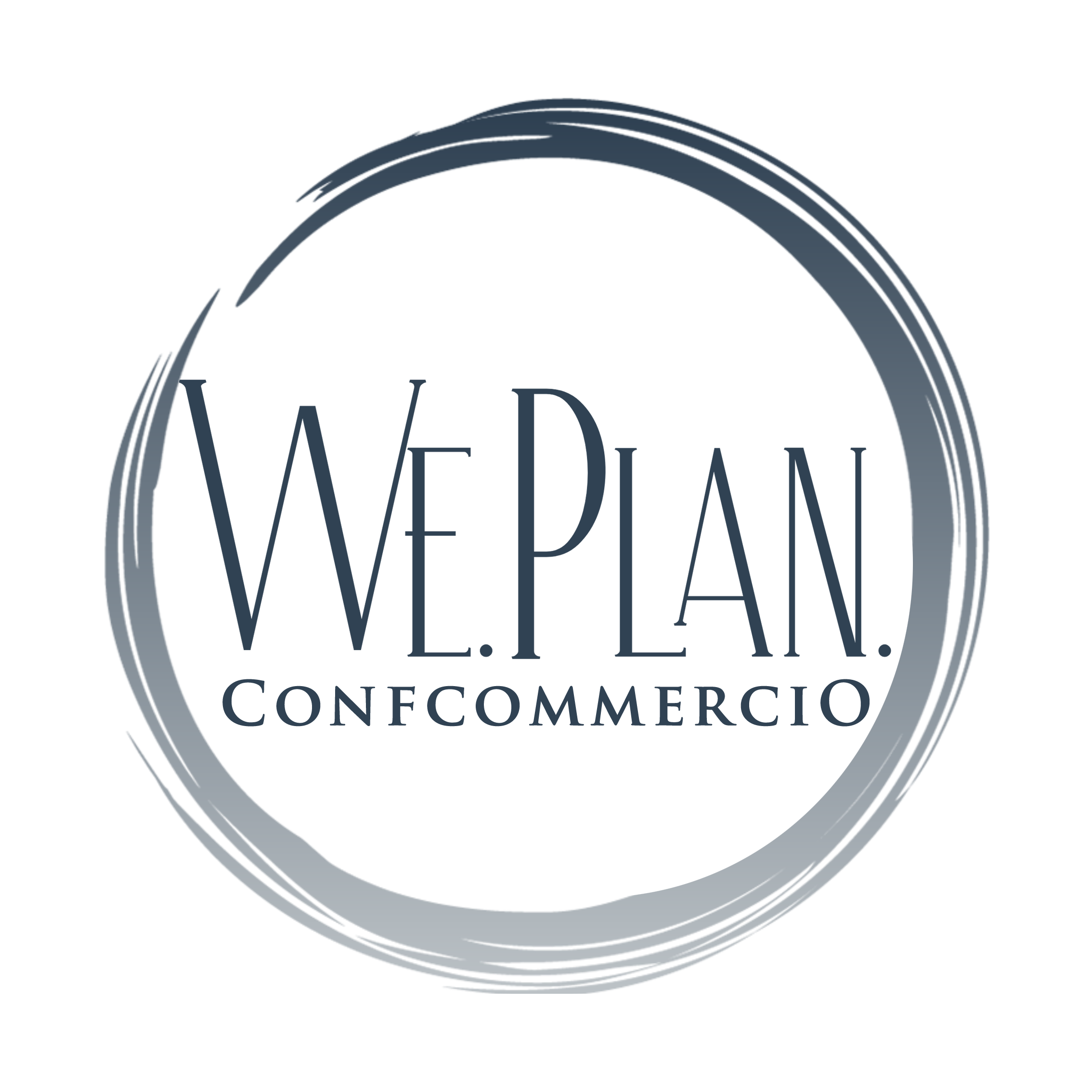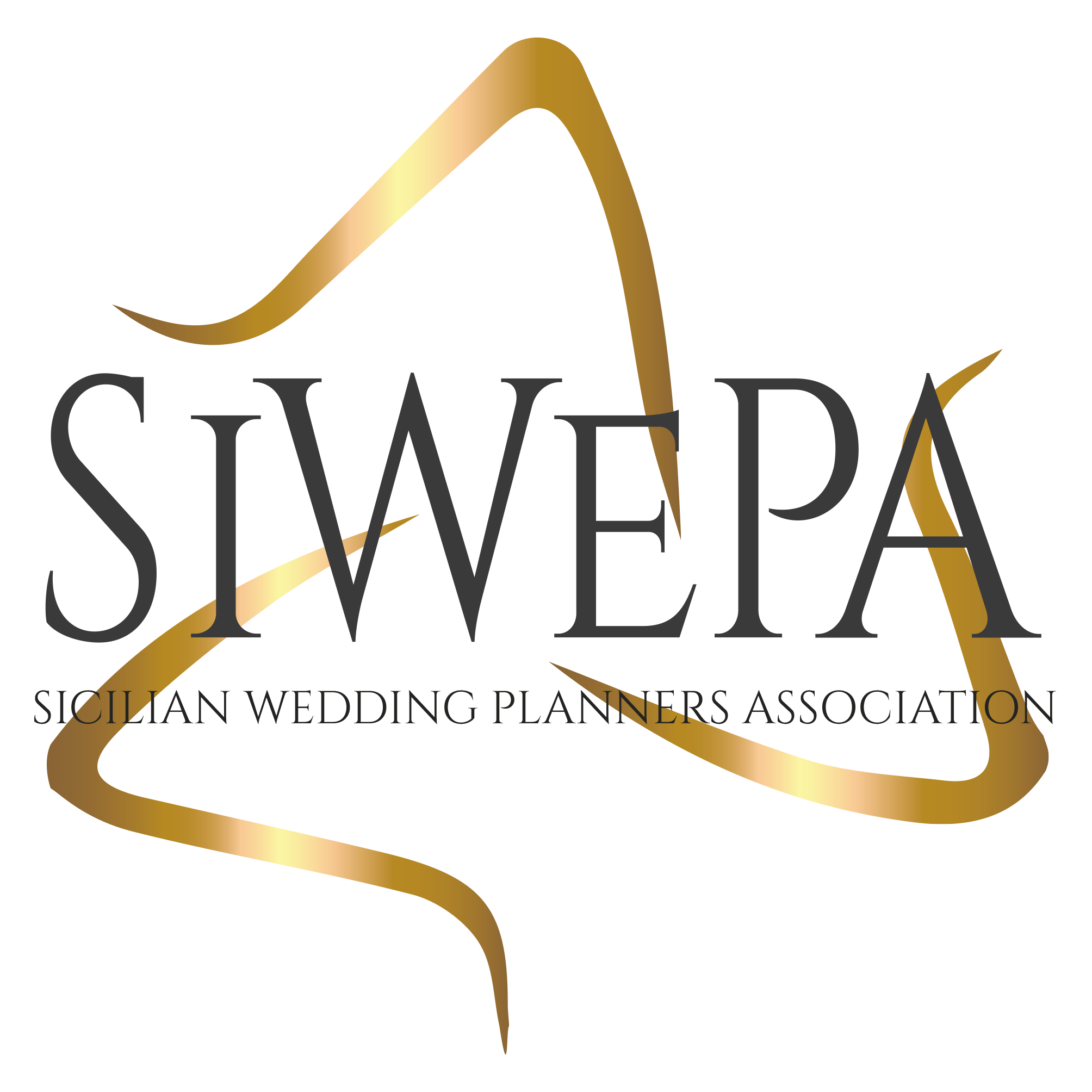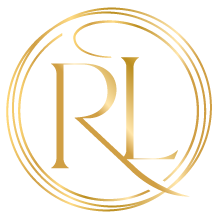 DREAMY WEDDINGS
---

---
My purpose, a beautiful, perfect and unforgettable wedding for you!
Beauty and details create uniqueness and exclusivity, that's what our clients want for their wedding, well knowing that there's no room for mistakes on the most important day in their life. Who relies on Wedding planner Sicily, chooses to entrust one's wedding to a real professional wedding planner, certified in Sicily according to UNI/PdR 61:2019!
A real professional who can guarantee an excellent, successful event.
A team for Your desires
Our team select the couples in a limited number, to be able to dedicate themselves to each single event, personalizing it in every detail.
We choose suppliers, take care of every single detail, having a global vision of the event itself. We take care particularly of the timing, in order to syncronize each wedding phase. While the newlywed are enjoying their ceremony, we are their eyes and ears, so that everything is perfect!
Book now an appointment for a consultation
---
Civil and symbolic rites
---

Rossella Lanzafame also celebrates civil and/or symbolic rites for all those couples that desire to live a romantic ceremony, made precious by original and personalized readings and music.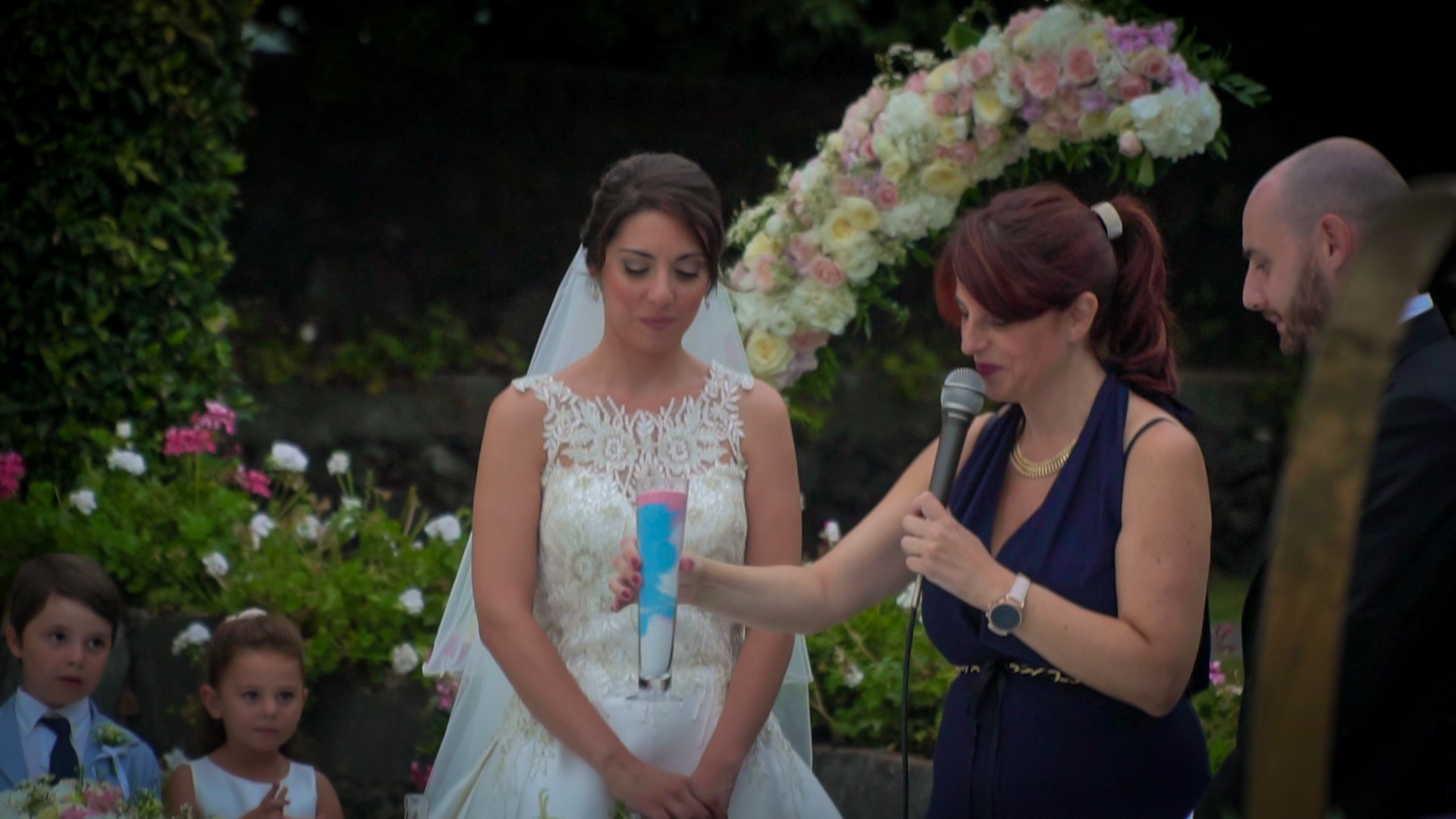 The sand rite
More info
It consists in pouring three little jars full of sand of different colours into a glass vase, on a layer of sand symbolizing the marriage foundation.
We pour the different colours, representing the couple's personalities, what they were in the past, what they are today and what they'll be in future. The different colours of sand mix just like their personalities are mixing. The newlywed's life in common will be just like the sand grains: they won't be separated from now on.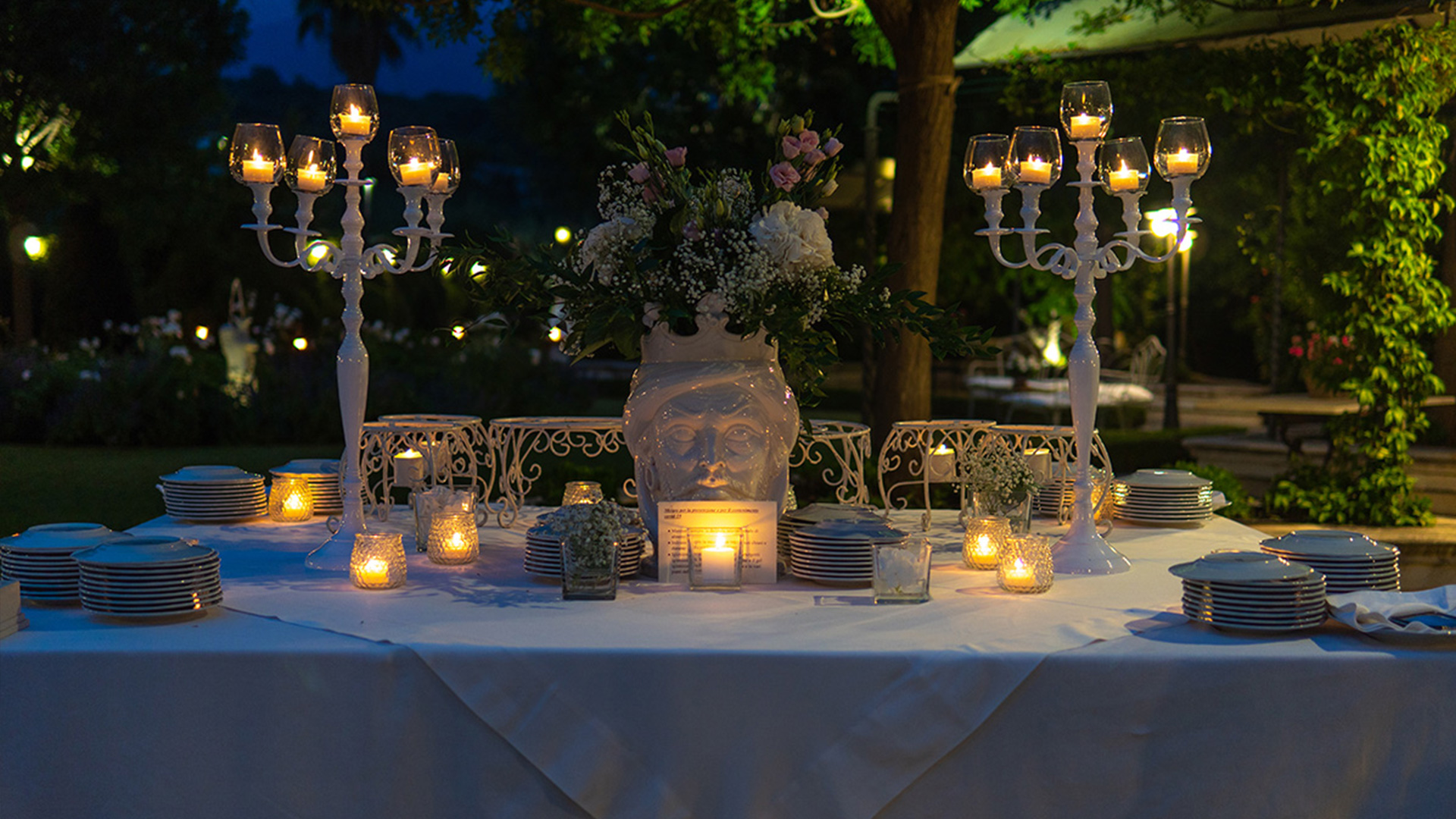 The candle rite
More info
The newlywed take two candles, light them in order to light a big candle too, that symbolizes unity and mutual promise. The big candle light represents the couple's unity, the beginning of a new family. Two individuals, two sources of light becoming one by marriage .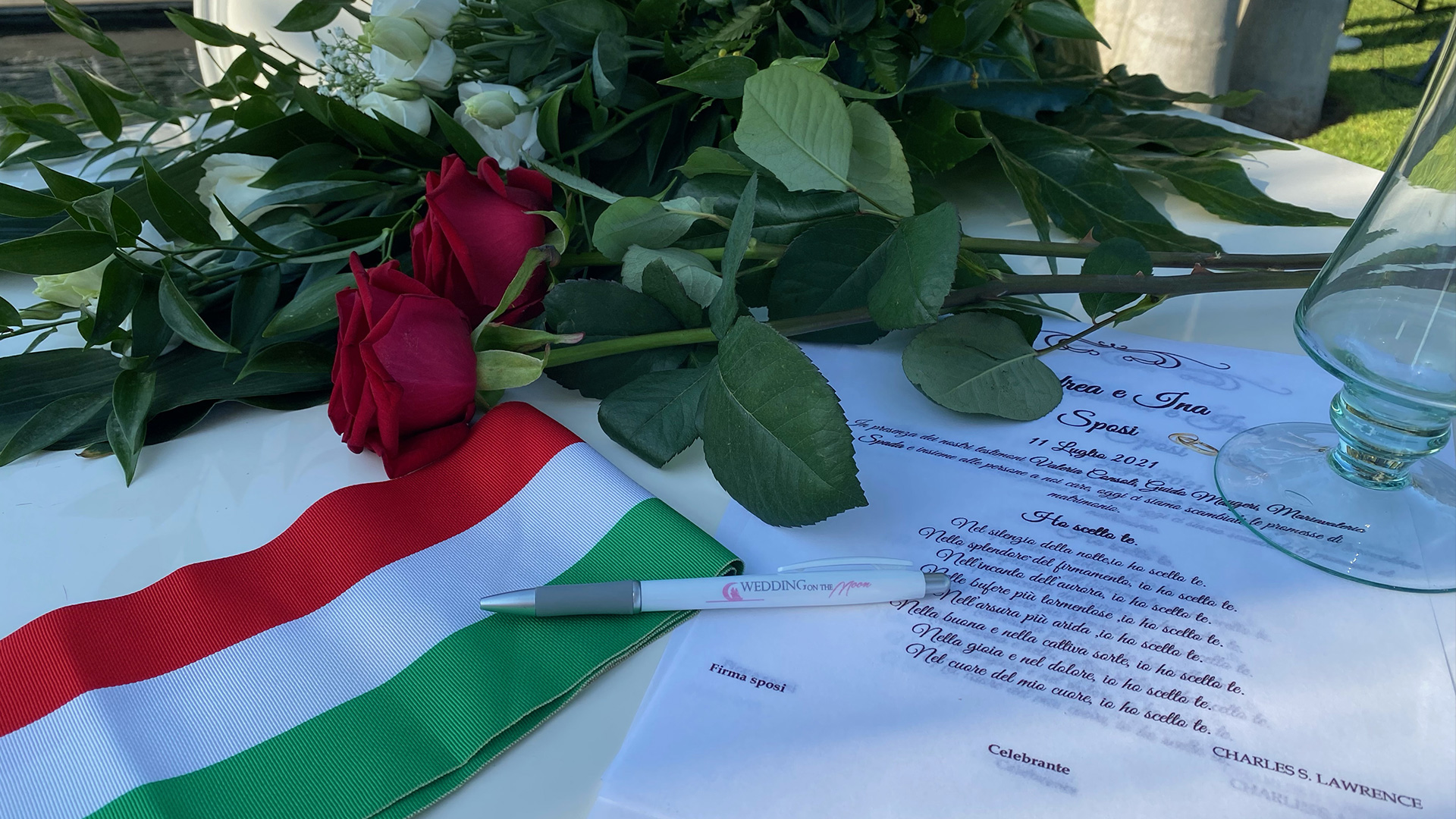 The roses rite
More info
From ancient times on, red roses are a symbol of love, and offering a rose has always meant: "I love you". That's why nothing is better than a rose as a first present, once husband and wife.
It'll seem that nothing has changed while they are exchanging the roses, and actually tomorrow won't be different from yesterday, under certain aspects, but in that precise moment the newlywed are getting one of the most beautiful presents in life: the one of pure and eternal love.
Otherwise personalize your rite
Write through this form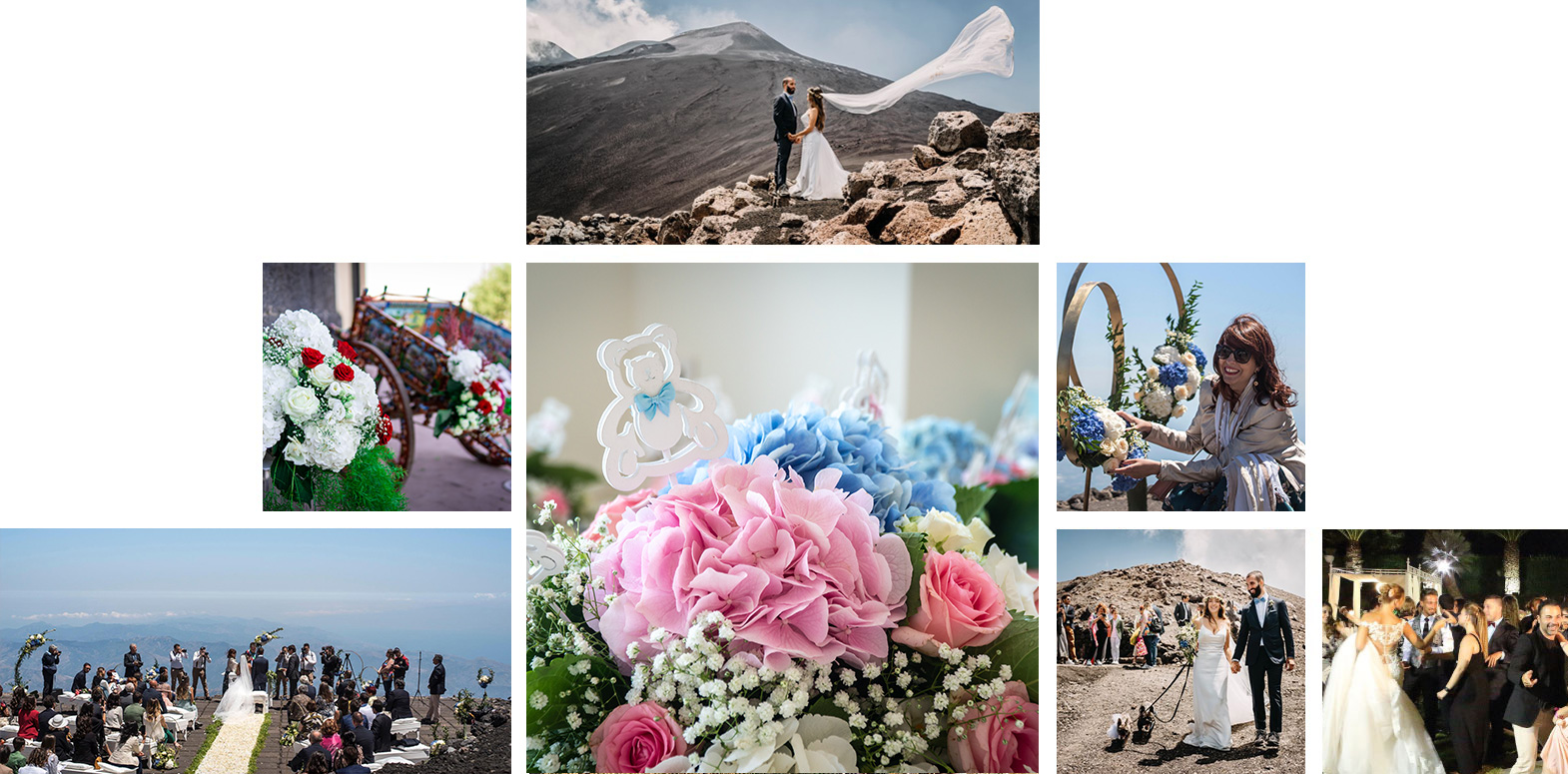 ---
Dreamy locations
---

We've got lovely locations where to get married in Sicily, but the most lovely location is where you feel yourself at ease.
Our first step is to find the right location for your wedding, considering the technical and logistic aspects, depending on the number of your guests. Then we consider the emotional aspect, not less important, as your dream will begin just there.
My purpose!
Newlywed's complete satisfaction and their guests satisfied too and pleasantly amazed.

The awareness of having made such an important day be special.

To be certain that everyone will speak well of the event, remembering how extraordinary and pleasant it was.

Destination wedding Sicily

, makes unique and precious your wish to get married in Italy! You dream and I fulfil your dream!
Ask now for a consultation with Rossella Lanzafame
Office
Viale XX Settembre, 50 Catania
Or write your request here